UbiBot WS1 WiFi Temperature Sensor
Cloud-based WiFi temperature, humidity, ambient light data logger and monitoring device
---
$ 59.99 USD

$ 59.99 USD

Save

$ 30.00 USD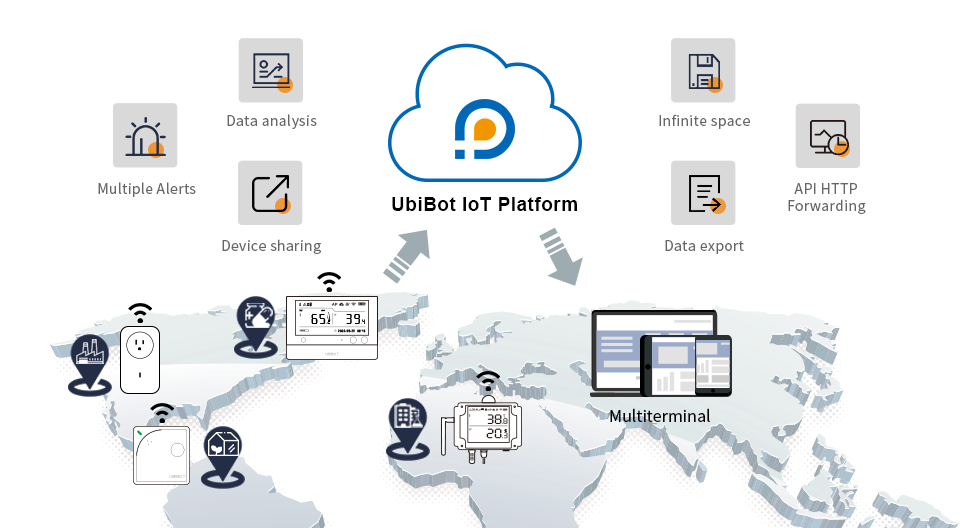 UbiBot ® WS1 is a cloud-based environmental monitoring data logger. It has a compact size and light weight. Its built-in industrial-grade sensors can monitor temperature, humidity and ambient light values and give you accurate readings of environmental conditions. With a WiFi network connection, it automatically synchronizes data to the UbiBot ® IoT Platform, giving you remote access to your data via UbiBot App or Web Console platform on a PC anywhere in the world and allowing you to receive alerts and monitor the environment in real time.
WS1 also supports an external probe DS18B20, which can be used in liquids, freezers, fridges, and other harsh environments.
Features:
Temperature, humidity and ambient light monitoring
2.4 GHz WiFi network connection, no need of hubs or gateways
Compact size and light weight - 

65 x 65 x 16.5mm, 32g

Free App & Web Console to access and monitor real-time data remotely, no subscription fee
Unlimited UbiBot cloud storage for historical data; free historical data export
Multiple ways of real-time alerts: App notifications, emails, phone calls, SMS, HTTP
Working with IFTTT, Alexa, Google Assistant, Google Sheet
1 x DS18B20 external temperature probe is supported
Easy setup with free UbiBot App or PC tools
With a capacity of 300,000 records, UbiBot's memory stores all data even if WiFi is temporarily disconnected, ensuring there are no gaps in the data history.
2 types of power supply: AA batteries and external power supply
Compliance with CE, EN 12830, FCC, FDA CFR21, IC, RCM, RoHS, TELEC
Note:
- UbiBot WS1 is not waterproof. The optimal operational environment is 10% to 90% relative humidity (RH). Long-term exposure to a highly humid environment, over 90% RH, may cause damage to the device.
- If used for a freezer/fridge, please connect a DS18B20 external temperature probe, and put WS1 outside of the freezer/fridge.
- WS1 can work with a 2.4GHz WiFi network or 2.4/5 GHz mixed network. 5GHz WiFi is not supported.
- UbiBot WS1 supports 1 x DS18B20 Temperature Probe.
- With a Micro-USB Cable Splitter, WS1 can connect 1 x DS18B20 Temperature Probe and external power supply at the same time.
- If the UbiBot device is used in continuously high humidity (over 90% RH), we suggest using the UbiBot water-resistant case and connecting DS18B20 external probes.
External Probes
Accessories
UbiBot ® offers a revolutionary way to monitor environmental conditions where they matter. The sensors synchronize data to UbiBot ® IoT Platform using WiFi, Cellular or Ethernet connection (depending on the specific model purchased). Users can then access data from anywhere via a smartphone or the Web console.
Features:
Data Management: Manage all your IoT data in one place; you could add as many devices as you want to one UbiBot account.

Unlimited Storage: Unlimited cloud-based storage ensures you will never run out of space. This allows you to view all your historical data via UbiBot App or Web.

Free App & Web Console: Using UbiBot App and Web Console is free. Powerful and thoughtful features provide you brilliant experience.

Analysis and Visualization: Use powerful analysis and visualization tools to get the most out of your data; spot trends and direct comparisons.

Real-Time Alerts: Fully customizable alert system will notify you via App notifications, emails, phone call/SMS, HTTP whenever any metric goes out of the range preset.

Highly Secure Platform: UbiBot IoT platform is designed to keep all your data secure so you never have to worry about hackers or other security issues.

Working with IFTTT, Alexa, Google Assistant, Google Sheet

Compliant with FDA CFR21
Details:
Real-time and history data
The UbiBot Platform is a cloud-based IoT platform where all measured data is uploaded and stored. UbiBot App and Web Console allow you to view current data as well as historical data in graphs. The adjustable Y-axis scale allows you to view any tiny fluctuations in the curve.
Customizable alerts and bulk operation
Setting and receiving alerts on your devices helps you to get notified of the conditions timely. When you have many devices to manage, it's time-consuming to set each alert rule one by one. Therefore, we've developed a bulk operation module with which you can set the same rule for many devices at a time.
Free data export
On UbiBot Platform, you can download the history data in CSV or PDF format. The CSV file only contains raw data, while the PDF file is a summarized report with average, maximum and minimum value within the chosen period. The PDF file is much easier to read and archive.
Device sharing and bulk operation
For business users, centralized control over multiple devices is available, with no limit on the number of devices in one account. Also available are bulk operations that apply to sensor settings, alerts, and remote control routines. Devices can be shared with other people, which allows for distributed management by different colleagues.
Intelligent automation in UbiBot platform
UbiBot is committed to building intelligent industrial and home ecosystems. By integrating temperature and humidity sensors and the smart plug SP1 in one system, automated operation is achieved through data linkage. For example, fans can be switched on when the temperature rises to 30 °C.
Data forwarding
UbiBot is an open platform that provides cloud-based services while supporting customers to use their own storage servers. With the data forwarding service, you can forward the data collected by your device to your own private URL to protect privacy.
Location tracking and logging
UbiBot GS1-PL4G1RS is embedded with GNSS (Global navigation satellite system) for positioning. Through mobile data communication, real-time location information is transmitted to the platform and recorded. The UbiBot platform integrates this data, plots it into a trajectory map, and presents it.
Platform-based calibration
UbiBot platform supports data calibration both on the platform level as well as the device level. One-step calibration, instant display, no impact on historical data.
SIM card management
When using UbiBot Global SIM to transfer data, you can manage it by yourself. Unlike other SIM cards with a standard monthly fee and traffic amount, our SIM supports many types of plans. Choose the one that suits you now, and change to another next time. No arrearage and no extra charge.
Technical specifications
Temperature
-20℃ to 60℃( -4℉ to 140℉)
Humidity
10% to 90%, No condensation
Ambient light
0–83,000 lux
Accuracy
Temperature ±0.2 ℃, humidity ±2%, ambient light ±2%
Memory
300,000 sensor records
Network connection
| | |
| --- | --- |
| WiFi | 2.4GHz or 2.4/5GHz, channels 1-13 (5GHz WiFi NOT supported) |
Physical specifications
Materials
Flame resistant ABS & PC
Dimensions
65 x 65 x 16.5mm
Weight
31.8g ± 3g
Colour
White
Ports
1 x Mini USB,1 x Micro USB
Power Supply
2 x AA batteries /Micro USB (5V/2A)
External probes supported
1 x DS18B20 temperature probe
One single pack includes
1 x WS1 device; 1 x manual book; 1 x USB cable; 2 x pieces of double side adhesive tape
1. Does the device collect data when the network is unavailable?
Yes. The device continues to monitor the environment even when no network is available. It stores the data in its on-device memory and will sync it to the UbiBot IoT Platform once the connection to the WiFI network is established. Alternatively, you can manually export the data via our PC Offline Tool or Web Console.
2. How to reset the device when my WiFi router password is changed?
Repeat the device setup steps and follow the on-screen instructions. Note: you need to type in the new WiFi password. When you change the WiFi password, or even when you move the device to a new location, all the data collected by the device will remain unchanged.
3. What kind of probe can be connected with the device?
The WS1 device supports one DS18B20 temperature probe. When you need both USB power supply and external probe connection at the same time, you can use the Micro USB Splitter Cable Adapter (One Male to Two Female).
4. Is there any subscription fee for using the platform?
No subscription is needed to use the UbiBot Platform.
Each device comes with the free plan on UbiBot platform that offers 200 MB storage and 1 GB outbound traffic. The 200 MB storage is for lifetime and 1 GB of outbound traffic is available monthly to each device. Note that any unused balance of the outbound traffic will not roll over to the next month. For example, if you have 500 MB of outbound traffic unused this month, you will still have 1 GB available for a specific device the next month, you won't have 1.5 GB. The free 200 MB storage is enough to store over 2 years' worth of data in case your device takes temperature, humidity and light sensor readings every 10 minutes.
You can also pay for a larger amount of storage and outbound traffic. Please go to the "Pricing" page to see details.
5. Can the device be powered by USB power supply?
Yes. The device supports both AA batteries and Micro USB power (5V2A). The device can preferentially use USB power if both USB and batteries are available. In this case, you can insert 4 AA batteries as a backup for the power supply in case the socket power is cut. Rechargeable batteries are also supported, but please note the device won't charge them when USB supply is plugged in.
6. Why didn't I receive the verification email for registration?
The email is probably blocked by your email server. Please check your spam or junk mail first. If you still can't find the verification email, please send your registration email address to support@ubibot.com so we can check if there are some issues on our end.
For other questions, please visit our website at www.ubibot.com/category/faqs/
---
*Free Express Shipping on orders over $89.99 to USA, Canada and UK. For other countries, Free Worldwide Shipping applies on orders over $250. Delivery times and costs will be automatically calculated after you enter your shipping address during checkout. Orders are shipped from our closest international warehouse.
The price you pay doesn't include import duties, taxes or charges as these vary widely between countries.You are responsible for paying all such charges immediately upon the receipt of the item.
Contact our local distributors for next-day delivery. Service available for the following countries:
You can enjoy the fastest delivery service, as well as professional technical, local sales, and after-sales support.

















---
Related to this product